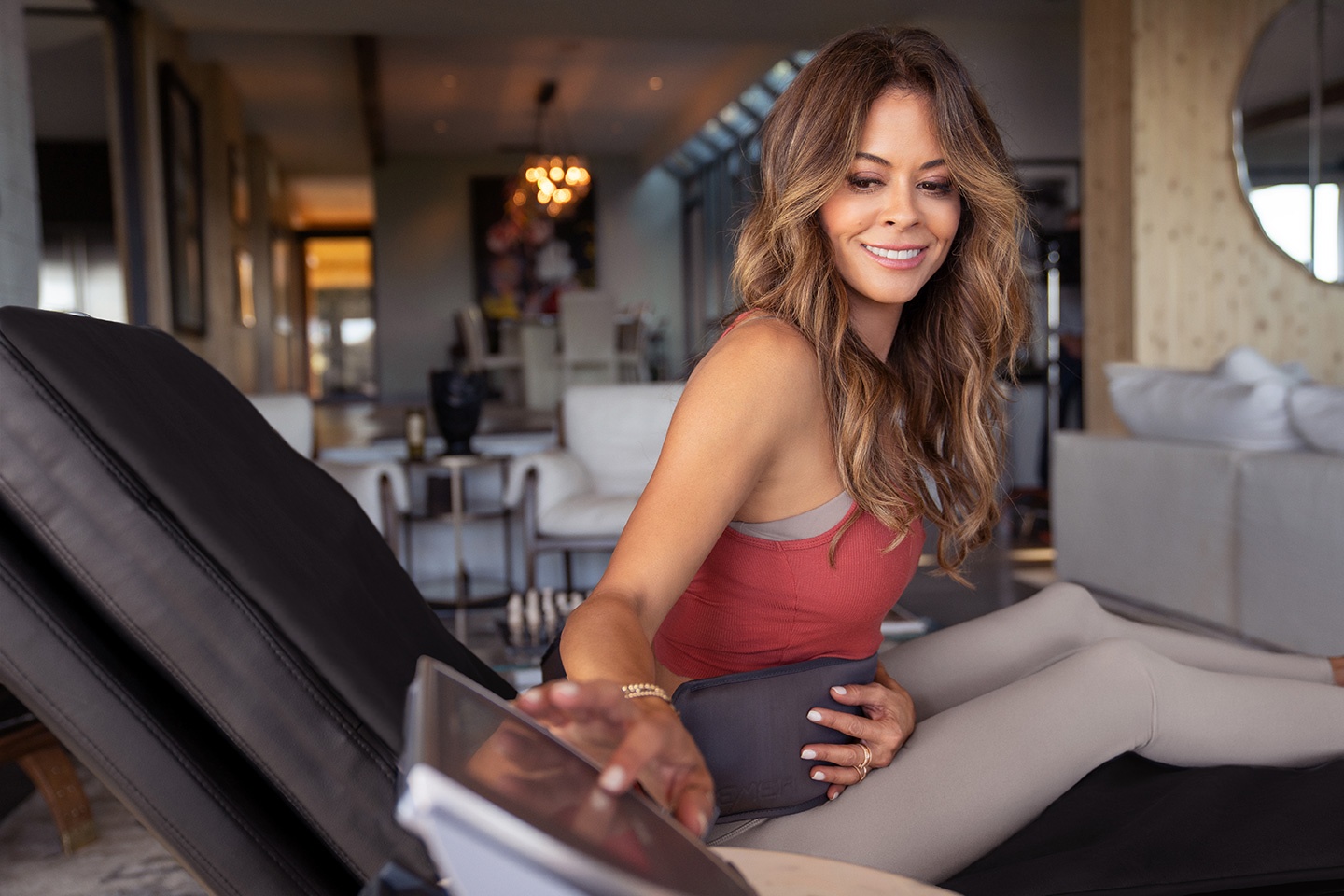 November 11, 2019
Fitness Model and Wellness Guru is a Devoted Fan of BEMER Proprietary Technology
San Diego, CA, October 2019 – BEMER USA recently announced that Brooke Burke will be a brand ambassador for BEMER's Pulsed Electromagnetic Field (PEMF) technology products. Burke holds many titles, including: CEO and founder of the Brooke Burke Body Fitness app, Television host, podcaster, author, social media mogul, mother (of 4), and cancer survivor. Ms. Burke, is perhaps best known for winning and later going on to host ABC's Dancing With the Stars. Forbes recognized Brooke by listing her as one of America's top ten moms to follow.
Brooke has made it her mission in life to educate women and men about the importance of physical and mental health wellness. In her new relationship with the company, Ms. Burke will share the benefits of implementing BEMER technology into her daily health routine including fitness , self care and other discussion points in mainstream and on social media. Burke has long been a user of BEMER and credits the technology with improving her sleep, overall energy levels and focus and boosted immunity from colds and sickness.
"I started using BEMER for only 8 minutes per day and it dramatically improved my sleep patterns, my energy levels, I never get sick and I feel great," said Brooke Burke. "I feel like I have had a fresh start, I'm sharper and more focused than I have been in a long time. I'm thrilled to share BEMER technology with the world."
For more than 20 years BEMER has developed patented PEMF technology that targets the micro vessels to improve overall blood circulation. Burke has been an avid user of BEMER technology as part of her effort to stay as healthy as possible and the relationship is a perfect fit with Burke's substantial influence and audience in the wellness space.
"Brooke Burke exemplifies the core values of the BEMER brand which is to do everything possible to reach optimum health and sustain that," said Albert Bosch, CEO, BEMER North America. "With her well earned credibility among those concerned with wellness and her following of fans who are predominantly concerned about their health, Brooke can introduce BEMER technology to a group that understand its value and where it fits in their wellness regimen."
BEMER technology is a pulse that stimulates microcirculation which improves overall blood flow. Improved circulation has a large range of positive benefits; blood flow removes toxins, increases transportation of oxygen and delivery of nutrients throughout the body. The unsurpassed BEMER-Signal sets a new standard in the industry with its complex, carefully tuned configuration and timing. Nearly two decades of research and development have resulted in very specific and highly effective modulations of amplitude and frequency, which is a feat of engineering used exclusively by BEMER.
While PEMF technology is widely available through a variety of devices, any positive effects rest squarely with the radio frequency being applied to the body (inductive effect). BEMER researched and patented its own waveform while refining the application device to achieve a superior technology and market the best PEMF products on the market today. The unique BEMER signal is generated in the control unit and then transmitted to the application modules for delivery throughout the body.
BEMER is available exclusively through direct sales with a BEMER distributor.
For information go to: https://life.bemergroup.com
To See Brooke Burke and hear her comments about BEMER, go here.
About BEMER:
BEMER® USA is a subsidiary of BEMER International AG, a leading global medical device company specializing in the research and development of microcirculation products. Founded in 1998, BEMER now operates in over 42 countries, with hundreds of employees and thousands of independent distributors. BEMER is a leading innovator in physical vascular therapy technology and holds an FDA registration along with numerous technology patents, as well as a joint collaboration agreement with NASA. BEMER products have been shown to increase blood circulation, which can enhance Cardiac Function, Muscle Stimulation, Muscle Recovery, Physical Fitness/Endurance, Stress Reduction, Relaxation and Sleep Quality. BEMER products are currently used globally by millions of consumers, hospitals and clinics, as well as hundreds of professional athletes.